By Mathis Prestel, Year 9
On 12th October, we left Bielefeld to experience England and especially Abingdon. It was a very exciting time with lots of adventures and fun. But I do not want to anticipate anything. When we arrived in Abingdon, we were all very tired, because we had already left at half past five in the morning that day. But there was not much time to relax, we had to go to school the next day. After a short night (some of us were supposed to get up at six a.m.) most of us enjoyed the English way of school. After a more or less short time in the common room ( the school is subdivided into houses, every house has an own common room, where everyone can play pool or do the remaining homework for the day), we went to the lessons with our partners.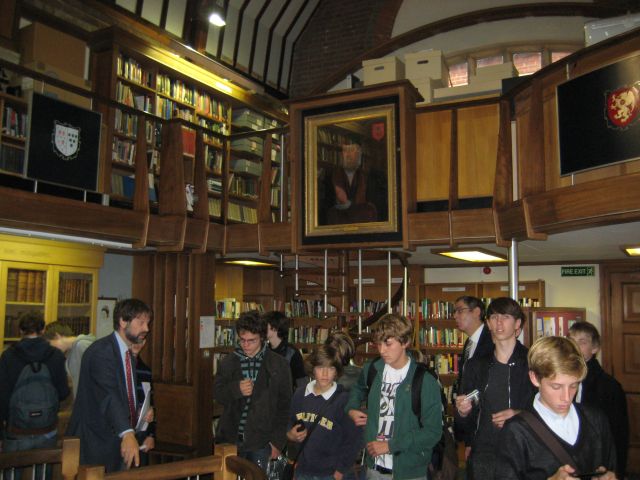 The English style of education is very different to the German one. The teacher speaks during the whole lesson and everyone has to be quiet. Some of the classrooms were full, so we had to stay in the common rooms and played pool or listened to music most of the time.
On the next day we went on a trip to Bath. Mr. Revill, an English German teacher came with us. Bath is such a beautiful city with many impressing sights, like the Roman Baths or the Royal Crescent. Some people actually say that it is one of the most beautiful cities in the world. After one normal school day and the extraordinary experience of a school without girls we went to Oxford, where we were able to visit Keble College, led around by two students of German.
The next day there was no school but again a trip, not to Oxford, but to Portsmouth. We visited some ships, the "Warrior", a two-hundred-year-old ship, which has never taken part in a battle, and the "HMS Victory", the ship of Lord Nelson, who was the man that beat Napoleon in such away that Napoleon had to give up a bit later. At the following weekend we did something with our partners' families; some of us went to London and some of us just stayed at home. On Monday we had again just a normal school day. On our last full day in England we made a trip to Oxford again, to visit Christ Church College, where the " Harry Potter" films were made. And the next day was already our last day in Great Britain. To conclude I can say that our trip to England was at least a great experience that nobody would want to miss.